Secondary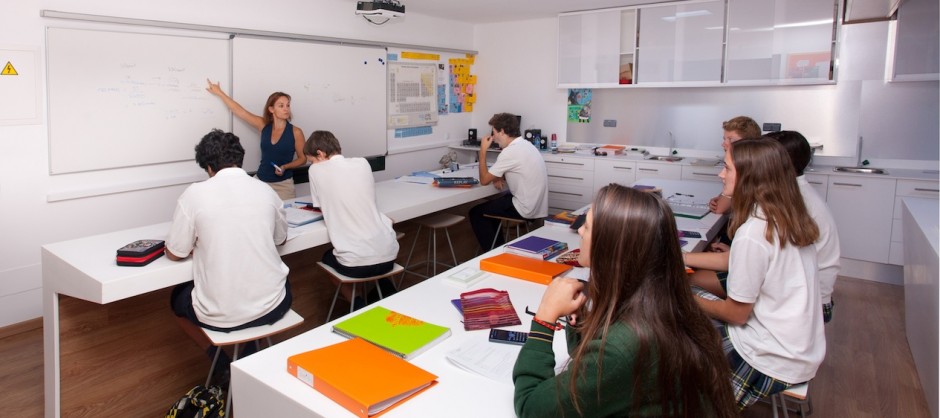 Secondary Department
As in the Primary Department, the curriculum is updated, refined or improved on by amendments to the English National Curriculum.
| | | | |
| --- | --- | --- | --- |
| Levels | Years | Ages | Spanish Equivalent |
| Key Stage 3 | Y7 - Y9 | 11-14 | 6th of Primaria to 2nd ESO |
| Key Stage 4 | Y10 - Y11 | 14-16 | 3rd and 4th ESO |
| 6th Form | Y12 - Y13 | 16-18 | 1st y 2nd Bachillerato |
Key Stage 3
In Years 7 to 9, all students follow a common programme in a range of subjects which are indicated on the Curriculum table.
In order to facilitate a greater focus on individual strengths and weaknesses, all subjects are taught to groups comprising a maximum of 15 students.
Art
English Language & Literature
French / German
Geography
History
I.C.T and Computing
Mathematics
Performing Arts
Personal, Social & Health Education
Physical Education
Science
Spanish Language & Culture or Spanish Studies*
Tutorial
*Lengua Española, Sociales and Catalán
Key Stage 4
In Year 10 and 11, students follow a range of 6 compulsory subjects together with a further 2 subjects chosen from a range of options. In some cases, students are offered the possibility of taking additional subjects. The curriculum is designed to enable students to consider a variety of careers or further education placements. Subjects chosen at this stage are studied over a two year period leading to GCSE and IGCSE examinations which are taken with CIE (Cambridge International Examinations) and Pearson Edexcel.
At GCSE level all subject classes, except for physical education, are divided into two groups to allow early identification of individual strengths and weaknesses and to provide opportunities for establishing good personal relationships.
Curriculum Table 2017/2018
Compulsory Subjects
English Language
Mathematics
Physical Education
Science (Biology, Chemistry & Physics)
Spanish Language & English Literature or Spanish Studies*
Tutorial
*Lengua Española, Sociales and Catalán
Optional Subjects 
Art and Design
Computer Science / ICT
French
Geography
History
Sixth Form
In Years 12 and 13, students who have successfully completed GCSE courses can move on to intensive study at GCE 'AS' and 'A' level , as preparation for entry to university in Britain, Spain or other parts of the world. On average students take four to five subjects at this level.
Subjects available at GCE "AS" and "A" level
| Science & Technology | Language and Literaure | Social Sciences | Others |
| --- | --- | --- | --- |
| Biology | English Language | Business Studies | Art and Design |
| Chemistry | English Literature | History |   |
| Physics | French | Geography |   |
| IT | German |   |   |
| Maths | Spanish |   |   |
| Further Maths | Spanish Literature |   |   |
For timetabling purposes, these subjects are divided into groups, from which of each, students select one subject. Alongside the British curriculum, students with Spanish nationality or a sufficient level of attainment in the Spanish language, may study selected components of the official Spanish curriculum enabling them to obtain qualifications in both education systems.
The subjects available and the qualifications on offer at this level prepare students for higher education in both the UK and Spain. They may also obtain places at universities world wide provided they have sufficient command of the language of the country in question.